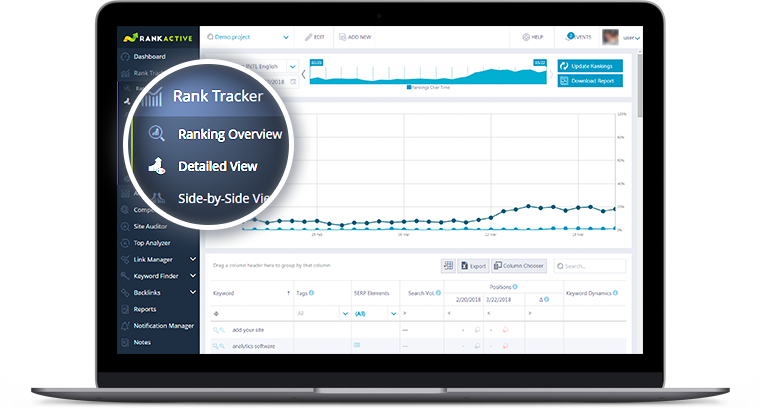 Rank Tracker
Volledige controle over je rankings
Rank Tracker helpt je de juiste SEO keuze te maken op het juiste moment!
Rank tracker: video overzicht
WAT DOET HET? WAT KAN RANK TRACKER VOOR MIJ BETEKENEN?
Hoe kan Rank Tracker mij helpen?
Rank Tracker laat zien hoe het staat met de ranking van je website of webshop. Het biedt alles wat je nodig hebt om je rankings te monitoren in onder andere Google, Yahoo, Bing, of lokale zoekresultaten in Google Maps, Google Map Pack en honderden land-specifieke zoekmachines.
Rank Tracker biedt alles wat nodig is om het succes van jouw website te monitoren. En, nog belangrijker, je hoeft er niet op te wachten: actuele ranking updates voorzien je op elk moment van real-time informatie.
Heb ik Rank Tracker nodig?
Rank Tracker is een must-have tool voor ieder bedrijf of organisatie die zich online profileert. Of je nu eigenaar van een website bent, een groot SEO adviesbureau, een e-commerce platform, of een SEO specialist…deze tool helpt je je business te laten groeien.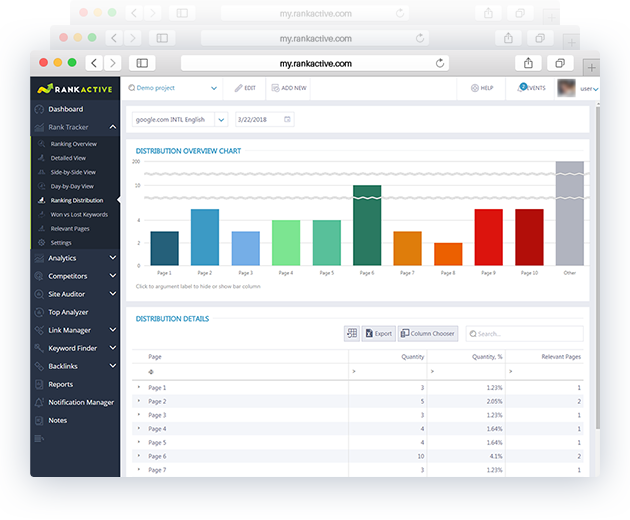 Probeer het zelf
Een foto zegt meer dan duizend woorden.
Ervaar zelf hoe Rank Tracker jouw rankings kan laten groeien!
Deze functies gaan jou helpen
Elke zoekmachine
Met Rank Tracker krijg je gegevens voor alle belangrijke zoekmachines, waaronder Google, Bing, Yahoo, Yandex, Google Maps, Google Map Pack en Google Mobile.
LOKALE RANK TRACKING
Monitor je ranking gegevens waar ook ter wereld: in elk land, elke stad en elke taal. Volg je lokale resultaten via honderden land specifieke zoekmachines.
DAGELIJKSE TRACKING
Verdedig en verbeter je rankings met dagelijkse updates. Rank Tracker meet automatisch je posities en biedt waardevol inzicht in je huidige marktpositie.
Gegevensvergelijking
Rank Tracker geeft een volledig beeld van de ontwikkeling van je ranking gegevens door veranderingen dynamisch in de tijd te presenteren.
RANKING UPDATES
Heb je direct actuele ranking gegevens nodig? Klik op Update en krijg real-time informatie over hoe je website het doet in de SERP.
KEYWORD TAGS
Rank Tracker helpt je om snel vanuit lange lijsten de juiste keywords te taggen voor campagnes. Een must-have functie voor elke marketeer!
KEYWORDS DATA
Ontdek je ranking mogelijkheden met essentiële keyword data, zoals zoekvolumes. CPC, KEI en meer.
ZOEKHISTORIE
Rank Tracker houdt snippets (SERP) en advertenties bij voor elk keyword. De resultaten zijn beschikbaar voor alle dagen van de zoekhistorie.
PROBEER DE MEEST KRACHTIGE RANKING TOOL!
Geef je website vandaag nog een boost!
De krachtigste ranking tool die je ooit zult tegenkomen!
50 MILJOEN
keywords worden dagelijks gevolgd
60 SECONDEN
is er nodig om 100.000 keywords te volgen
100 DUIZEND
locaties beschikbaar om te volgen
Rank checker: what is it?
Google rankings keyword tracker: why do I need it?
The main reason why you need Google keywords rank checker tool is a necessity to understand how your current SEO efforts affect your rankings. You should always know if you move in the right direction. If your rankings don't move to the TOP10 month over month - you're definitely making something wrong, and you must reconsider your SEO tactics. If you use keyword position rank checker as one of your must-have SEO tools, you will probably be in the know of all changes and shifts in the rankings, and you can always apply necessary changes to your strategy if it's needed. Nowadays, in the world of high competition, it really matters to know every single detail about the website you're working at, to know how keywords are changing over the time, to understand the end goal you pursue with the project.
The other reason why you need keyword ranking tools is a requirement to provide your customers with reports. Clients always want to know how their money is spent, what results they get. In the case of SEO, they are interested in rankings and traffic. So if you want to share rankings results with your customers, you probably need to use one of the site position checker tools. Some of the software providers, like RankActive, provide white-label solutions so that you can share rankings reports with your customers under your own domain, with your logo. The customer even won't know what tool you use to track rankings. The more information your clients have online, the more loyalty you get from them. Just imagine that your valuable customers can track their rankings in real-time!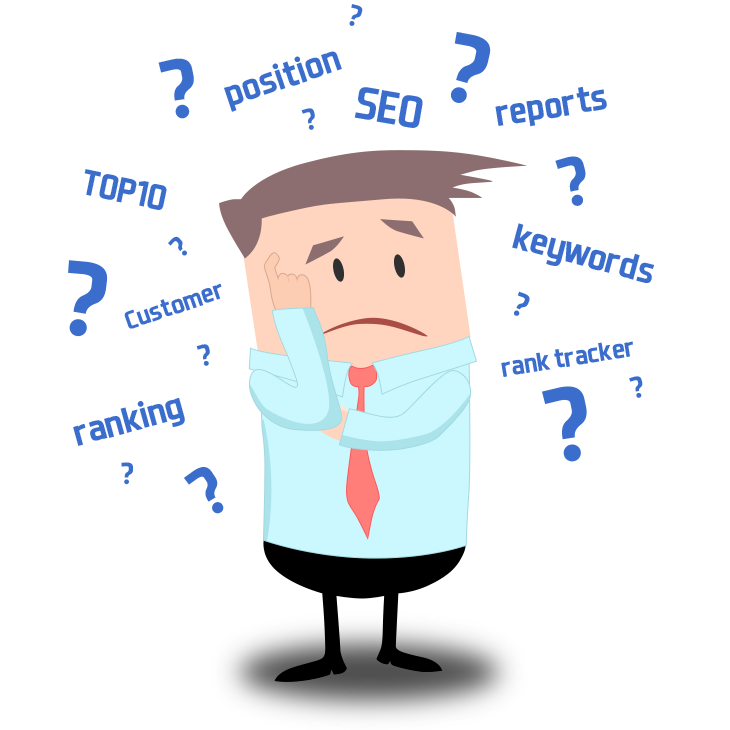 As a conclusion, there are two main reasons you really need a search engine keyword tracking software: be in the know of all rankings changes and provide keywords positions reports to your customers.
SEO is a marathon, pay attention to details, check the changes of rankings and how your SEO efforts affect your overall visibility, and you will be the first at the finish, especially, if you use RankActive Rank Tracker Software.
Position rank checking software: what problems does it solve?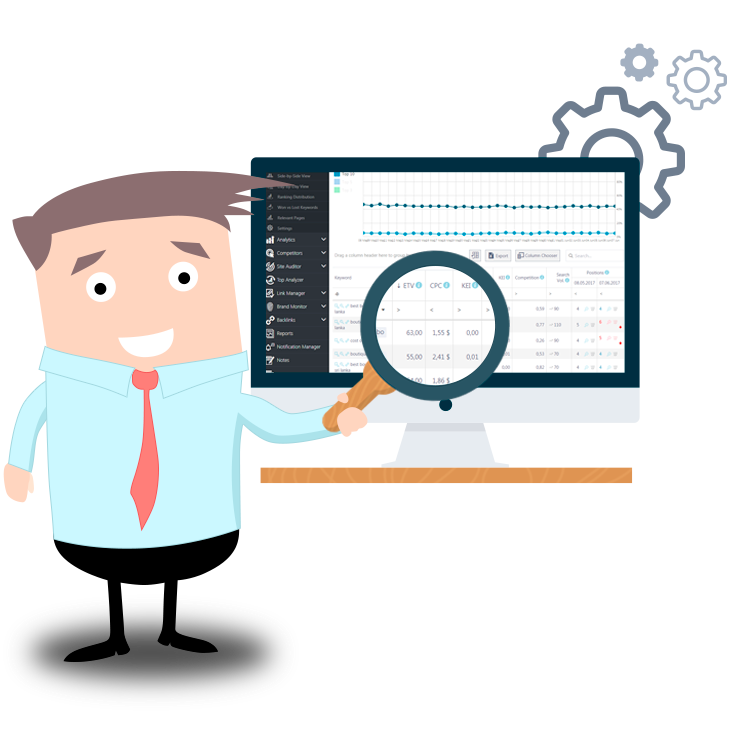 For now, we already know why you need a keyword rating checking tool. Let's talk about the problems this type of software can solve. First of all, search engine rank tracking software solves the problem of knowledge. If you track all important keywords' KPIs on a daily basis, you will always be one step ahead of your competitors. If you know what works cause rankings increase (or decrease), you can follow in the right direction with the works you perform on the website. In the world of constantly changing search engine results, it is highly needed to track SERP positions on a daily basis. Google introduces more than 600 changes in its algorithm, do they affect your website positions? RankActive Google SERP checker knows the answer.
Another problem that a search engine position checker tool can solve is technical aspect of the question. For example, you can track relevant pages for your keywords and understand what segments of your website are more valuable for you. When Google switched the light off and hid search queries that brought you traffic, the first metrics we should repulse are pages. We need to understand the relevancy between pages and keywords. We need to understand how users find your website. This is the problem the RankActive position checker tool can solve. We've been working for a long time to bring the world with the great solution for (not provided) keywords. And we've introduced Estimated Traffic Value metric. This value shows you the amount of users one simple keyword brings for your project. It's critical because you can focus on the most valuable keywords that bring you traffic.
Conclusion: Google rank tracking solution solves not only the task of estimating your current positions, but it is also a great tool to measure your keywords value. With this marketing software, you can estimate tons of keyword data that will allow you to make right decisions with your SEO strategy.
Keyword rank analysis tool: who is this software for?
The keyword rank analysis software is the must-have for any specialist that is into SEO or online marketing. They are the most of the internet business. It is better and more profitable to have a ready solution than creating and maintaining own software. This powerful tool is helpful for:
Large Digital-Agencies
Owners of sites
SEO experts and/or SEO agencies
Each of the business categories can find significant data needed for the creation of successful strategies required for improving company's' presence on the Web. The system conducts thousands of analyses and collects information from the trusted, authoritative sources to deliver the necessary data that has 100% of accuracy.
Except checking positions of websites based on provided keywords, Rank Tracker also contains information of the competition level for a keyword you use for targeting. What metrics can help you with this seems-to-be-hard task? First of all, it is the KEI parameter. To calculate Keyword efficiency index system uses such valuable parameters as search volume of a keyword and total results amount. As a result, the higher the value, the easier to promote a keyword in the TOP10 of SERPs. The second indicator is based on the spreading of traffic in the TOP20 and the keyword search volume. It is well-known as the estimated traffic value. In other words, it is the expected traffic that you can get to your website using specific keywords in your SEO strategy. Most of the experts recommend using the search volume value. This criterion gives the understanding of how difficult it will be to rank for a keyword. The higher this value is, the more efforts should be made to rank for a keyword.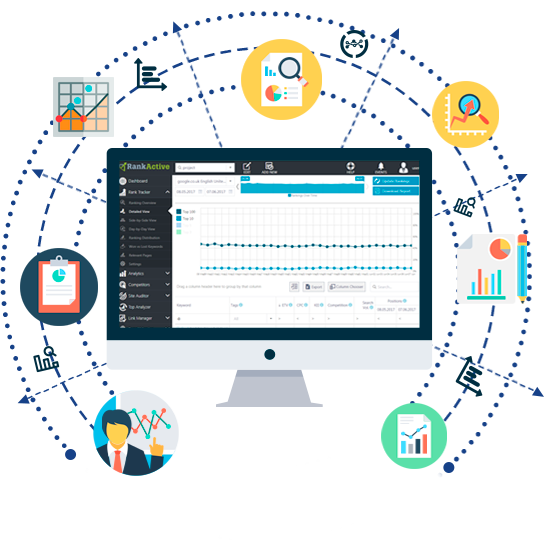 Additionally, marketers can find such useful information as the Competition parameter of a keyword. It is the competition in the PPC. The accuracy of this data is guaranteed as it is taken straight from Google AdWords. CPC values can also be found at Rank Tracker. It is used for bidding campaign to understand how much you may pay for a click on your ad.
Using Rank Tracker, experts of the internet marketing won't have to calculate how much the paid traffic would cost because there is already Traffic Cost. It is a result of ETV, and CPC parameters multiplied values. With this information it is simple to estimate how much paid traffic would cost in case a PPC campaign is conducted and if there is a need to reallocate the budget.
No doubt, Rank Tracker has a flexible range of data for every participant of internet business community. Conducting analysis of keyword efficiency based on relevant data can save a lot of time and improve the online presence of the website.
Website search engine rank tracking software: how to make right choice?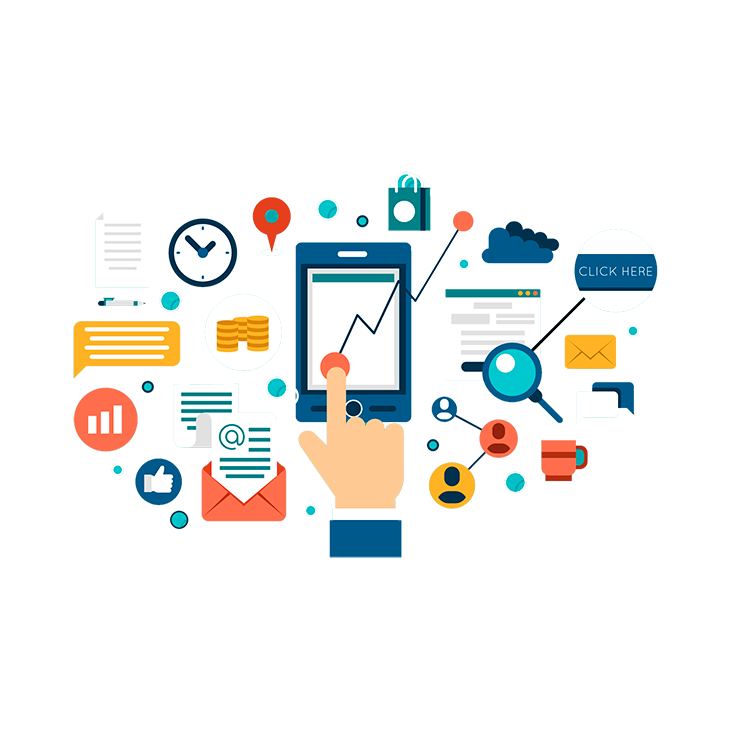 When the need of picking the most convenient and informative website search engine rank tracking software appears, almost all experts start exploring tons of SEO tools that are present on the market. Usually, they set themselves up as the perfect solution, but is it good marketing or simple truth? Also, SEOs face another challenge: what the main features they should examine to make a right choice and not be disappointed with what they've purchased.
Data accuracy. It is the only evidence of SEO strategy success. As you know, every search is personalized that has a bad impact on the mentioned criterion. An excellent rank tracker should "know" how to go around such issues to provide the accurate ranking of a website.
Local results tracking. If you find a rank tracker that can track actual local results, then your SEO work will gain another authority point. First of all, each of the SERP results is based on users location. Also, some website owners might want to be promoted by you, and their business is based on the certain location. This is why you must know the result a person gets based on geography. If this feature is absent at a website search engine rank tracking software, you should keep away from it.
Mobile rankings monitoring. For the last year, the importance of optimization for mobile devices became more than obvious. Mobile ranks differ a lot from desktop results. If you build a mobile-friendly website and are not able to track its mobile ranks, then your work is wasted.
Displaying of the ranking data. How many clicks do you need to make to see or customize important ranking data? Time is everything in the busy modern world. A good rank tracker provides organized displaying of website data to make it possible for a user to concentrate on concrete numbers. No data mess should be present there. If you provide your customers with access to the tool, they should understand how the things are at a quick glance.
The mentioned criteria are not all that must be taken into consideration, of course. But they are necessary must-have because without them it will be impossible to accurately analyze ranking data and understand how successful your SEO strategy is.
How do you track your SEO efforts and why you should track your keywords KPIs?
The success of any SEO work depends on two main parts: the creation of the best strategy and analysis of its results. There are many different tips united into the standard of an SEO strategy building. For instance, you should create robust and smart keywords list, write qualitative content, add visual elements that will attract the attention of visitors, eliminate any on-page errors that may have a harmful impact not only on rankings but also on user experience, and so on. This list can be continued endlessly. These steps are clear enough even for a newbie. But what should you do after the strategy has been implemented? What KPIs should you track to measure the result of work? Let's find out together.
Won and lost keywords. These changes should be checked first and foremost. The core of the strategy are the keywords you have chosen for the promotion. That's why it is important to understand how exactly they perform. First of all, check what keywords won new positions, it is easy to do with the unique Won vs. Lost section of Rank Tracker designed by RankActive. With its help, you can quickly estimate what keywords contributed to improving the website rankings and which have failed to complete the mentioned task.
Search volume. This parameter matters a lot because search engines are one of the primary sources from what a website attracts new visitors, impressions, and conversions. Check if your keywords have significant search volume and you use them to target in your content. The rule is simple: if there is no one searching for the keywords you use for targeting, then no one will find the content you've created. On the other hand, if you only use keywords with extremely high search volume for targeting purposes, it will be hard to win the competition with bigger sites and get your content ranking.
Estimated traffic value. This parameter is tightly connected to the previous point. The higher search volume is, the more visitors a website will get. That's why it is significant to see what keywords perform better and have a higher frequency of searches than other queries you use for targeting.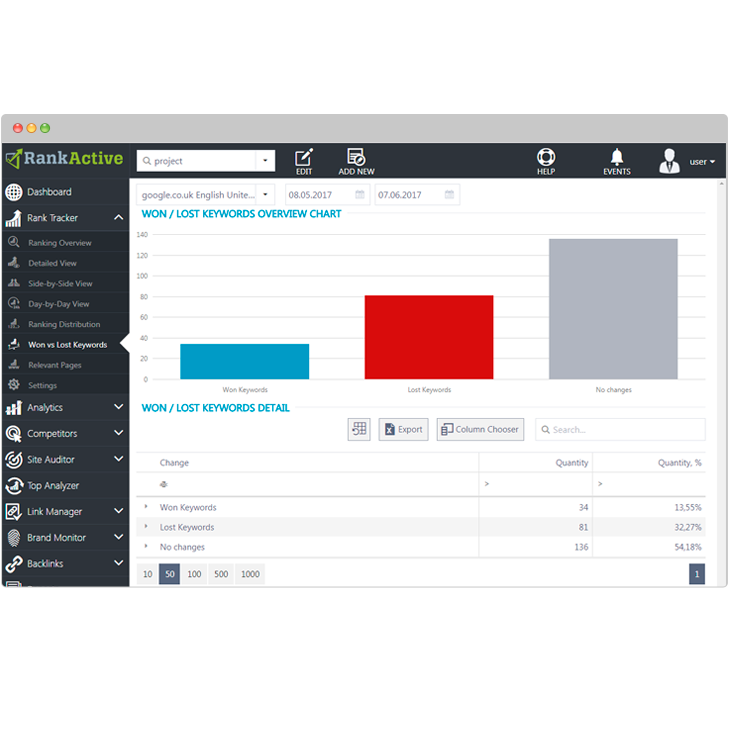 These three parameters don't require usage of some super professional tools. All of them can be easily and fast analyzed at Rank Tracker provided by RankActive.
Check Google keyword ranking: cloud or desktop? Which is the best?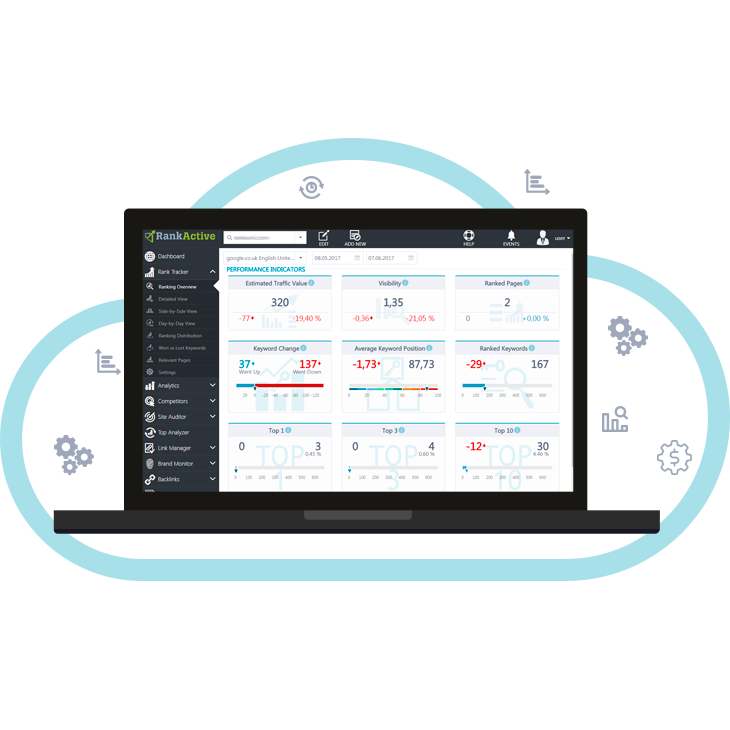 Most of the experts on the SEO market consider the desktop Google keyword ranking software as a thing of the past. The cloud software used by SEO has a lot more benefits than the one that has to be installed. And this is why.
No need to buy expensive hardware to host application. Instead of it, a user has access to API or to a complete SaaS solution that is, as a rule, ready to work straight after the registration step is completed.
For many specialists, especially SEOs, it is important to know what they are going to buy. With cloud keyword software any user in most of the cases can test a solution before purchasing. Such companies provide free trial, demo accounts or live demonstration of a product that allows a user to evaluate a product immediately. With the desktop solution, they have to download applications with limited functionality, install them, see that they don't meet requirements and go around the same circle again wasting precious time.
Cloud software has a predictable price. In the case of the ranking software, there is no fixed price. A user can choose the subscription plan, for instance, based on the keywords number and reduce needless parameters, for example, a number of backlinks. As for the desktop tools, as a rule, they have fixed and not customizable price.
Upgrades and security are the strongest benefits of SaaS software that is used for checking of the website rankings. An owner of such solution automatically takes responsibility for maintaining the software and upgrading it. He ensures that its data is up-to-date and secure while the desktop application can be upgraded once a year and the whole tool should be manually updated by customers after that. It takes some time and doesn't play into the hand of such apps.
Less time is spent on your team training in case of cloud software. it is updated more frequently and presents new features by fewer portions than on-premise tools.
You won't lose significant data if the cloud tool crashes because the vendor automatically backs up all data. This point is critical for those who has monthly or yearly ranking reports saved. They will be safe and recovered if any disaster happens. Installed desktop programs don't have such powerful feature. In 99% of cases, all the data will be lost beyond recovery if some terrible error occurs in the application.
Simple usage of the SEO SaaS solution is guaranteed because most of them have a similar interface that suits the way you do business.
In addition to this list, there is one more advantage. In the world of busy people, it is crucial to have access to the data anywhere and anytime. It is possible and more convenient with the cloud solution. All you need is access to the Internet, and that's all, you are there to do business while the on-premise apps can request an upgrade when you least expect and it will take hours to finish all updates.
When to check for keyword positions ranking shifts?
One of the basic things you should do before starting to build your SEO strategy is choosing of a search engine where a website will be promoted and, as a result, ranked. Its high rankings are one of the strong proofs that an SEO strategy works perfectly. Rankings are one of those factors that show how popular your website is on a result page of the search engine you are targeting. To get the most accurate ranking data, pick a location and language of those users who might look for products, services or information you provide. Therefore, you will have a start point from where you should take steps towards the TOP of the chosen search engine.
How often should you check the keyword positions ranking shifts? There are many opinions on this topic, but website rankings may change any moment that's why you should monitor them regularly. There are different reasons for sudden drops or jumps, from switching to HTTPs to improving titles and descriptions. Such task as a constant monitoring of ranking changes is a little bit difficult for completing manually by your own forces. And therefore, the RankActive team has designed Rank Tracker that provides any user with a possibility to track how changes you make on a promoted website or out of it impact your rankings. There is data on a site's current position according to a specified keyword. It also has all the details a user needs to understand when rankings of a website dropped or raised, what pages are in the TOP and for which keywords, how difficult it will be to promote a website for a particular keyword and much more. All the ranking data is being collected every day and can be updated anytime on user's demand in a single click.
Another thing that you should know about rankings is that achieving a permanent ranking in Google or any other engine is impossible without taking any efforts. The thing is that engines constantly modify their algorithms and the details on how they exactly work are a big secret, of course. Besides, new pages appear on the web every day, and some of them are strong enough to compete for taking the spot in the SERPs of the weakest website.
How far to check website position? TOP100? TOP1000?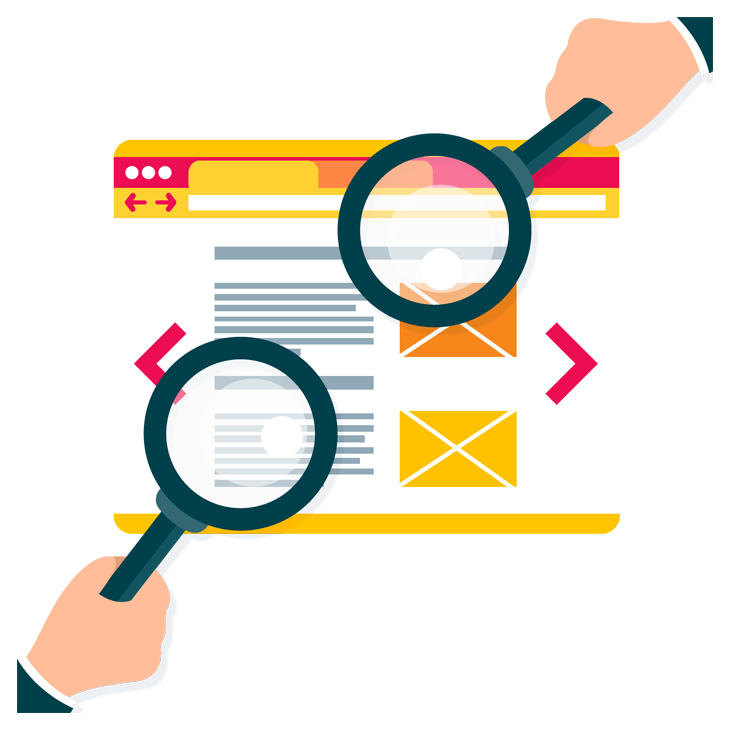 There are a lot of discussions whether SEO specialists should track TOP 100 or TOP 1000 of search results. But let's look at this topic from two different sides - an internet user and a website owner ones.
How is any standard search done? An internet user opens a search engine he prefers for his needs and enters a query to its search box. As a rule, SERP will show the range of the first ten pages with results according to the specified query. It is the TOP 100 of results. An average user doesn't go further than the 3rd-4th SERP, and it is only in that case when he can't find what he is looking for at once. It is clear enough that a tiny number of internet users check TOP100 completely.
From a website owner side, there should only be an intention to rank as high as possible in the TOP100. There are different reasons to do this. First of all, when a search is conducted, and a user reaches a website, an incredible amount of online and offline economic activity may be driven to it. Another fact is a visibility value - the higher rankings are in the first few results, the better impact it has on the specified parameter. The thing is that being a part of the list in the TOP 100 (the higher, the better) provides a significant amount of traffic. Also, consumers will trust a source more, and the importance of a company or a website will grow.
According to the opinion of some SEO experts, the main and, perhaps, the only benefit of TOP 1000 monitoring is the possibility to track when a new page optimized for a particular keyword is being added to Google index. But it's meaningless to monitor the whole TOP1000 since there are easier ways to get the indexing details, for example, using "site:domain.com/page.html" command for a specific page.
It is obvious that checking results further than TOP100 is useless and a simple waste of time. A specialist will only spend valuable time that can be used for an efficient analysis of implemented strategies or research for a fresh scenario building to achieve better positions in the SERP.
How often should you check your SEO keywords ranking dynamics?
The combination that consists of just three letters - SEO - scares a lot of marketers. If search engine optimization was easier, less tricky process and big search engines didn't make things harder by constant changes of their algorithms, such tendency would never appear among marketers and SEO specialists.
There were significant changes brought by algorithms implemented by Google in the past few years. Before they were rolled out, website owners knew exactly how they would affect their sites because one of the biggest search engines provided answers on why, when and how it would have an impact. Now the algorithm changes are not as massive as they used to be. So those who own a website or conduct search engine optimization won't notice such huge drops in rankings like they did when Panda or Penguin started their penalization journey. It doesn't mean that there won't be any fluctuation in a search engine and keyword ranks. The new way of doing SEO has changed the way of checking SEO data dynamics.
The frequency of monitoring ranking data mainly depends on changes you conduct at a website. If you are getting started and aren't sure about how well you are prepared to Google's algorithm updates then once a week will be the perfect frequency to estimate a ranking report. The RankActive platform provides any user with the most detailed one, including the difference between positions, keyword, search volume and other parameters' dynamics. The data can be easily analyzed because the toolkit delivers all necessary information for a user to understand if any actions should be done.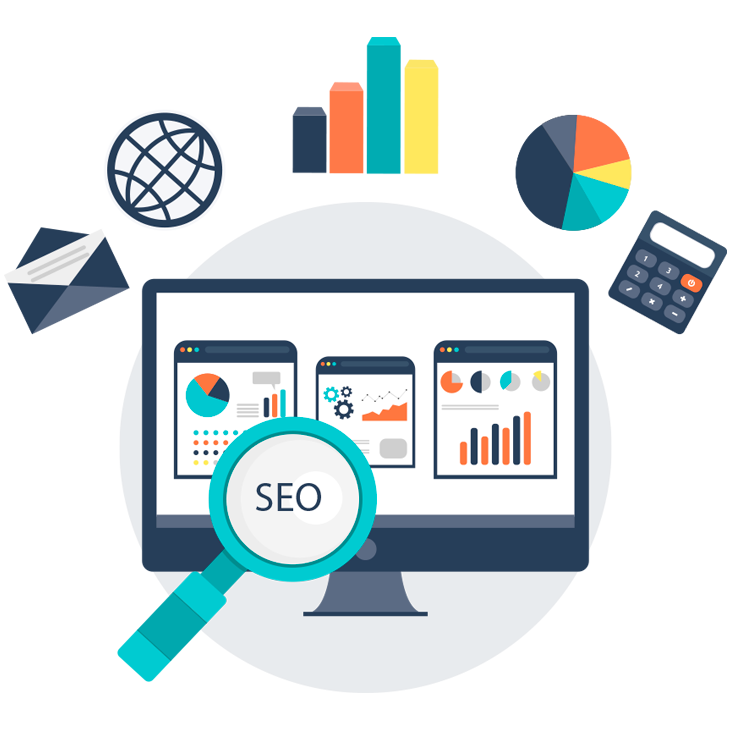 If you conduct any changes to the content part of a website, that can cause drops in rankings then you must look after changes every day. The same goes to the elimination of on-page errors. If you dig into the code and change anything there, for example, update titles or descriptions to make them more relevant to the content, delete "not found" pages or anything like that, then you can expect ranking grows anytime. In this case, you should also track changes every day to never miss a moment of success and share it with your clients or teammates.
Google, Google Local, Bing, Google Mobile: how many search engines rankings you should track?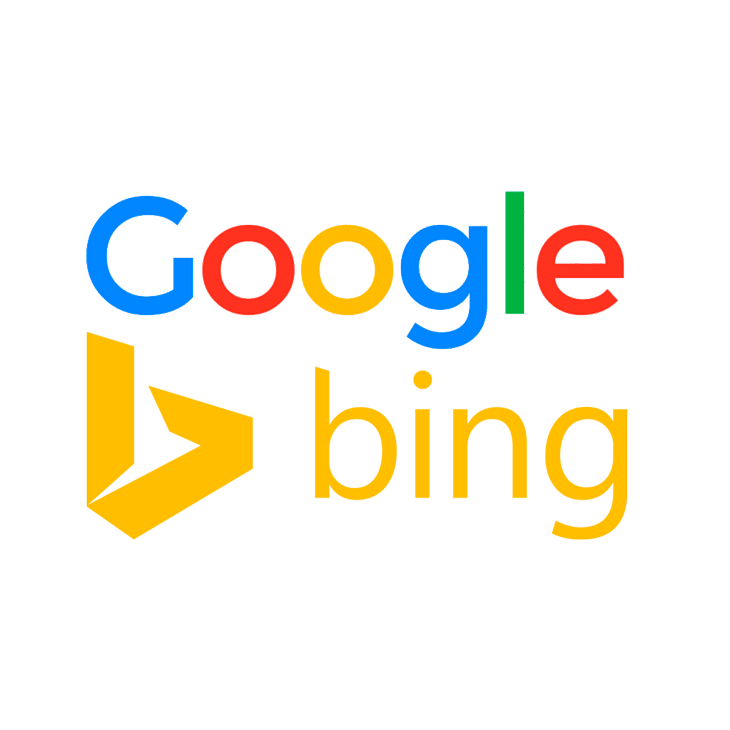 The range of the available search engines on the internet is huge. But, does it mean you should optimize your website for the all? Absolutely not.
The choice of the search engine for a website promotion depends on many factors. Let's consider some of them right here.
Which of search engines is more perspective? First of all, let's dive into the ocean of numbers. According to the latest research, the Google websites are visited by 241 378 people, while the Bing's audience consists of 178 120 visitors, and Yahoo has 191 988 users. Relying on these numbers we can conclude that it is more profitable to promote your website on Google, but easier on Bing.
Your goals. One of the reasons to optimize a website is getting more visitors to increase revenue. Here you have a rich choice of search engines where you can play out your strategy.
Google Mobile. If you choose this search engine for promotion, your intention is to get to the Google SERPs when the search is made from a mobile device. Due to the latest mobilegeddon and growing popularity of mobile devices usage, it is significant to track your website rankings and ensure you are in the mobile TOPs.
Results received via Google Local are significant if your business has a target location. In this case, you can understand if the implemented strategy provides you with the desired results at a particular geo-location or not.
As for the optimization steps, they are pretty the same for all search engines. The single universal rule for all of them is that success of SEO depends on many factors. It means if you only concentrate your efforts only on meta tags optimization and never pay attention to content or backlinks, then you will be waiting for a long time till you see improvements if it ever happens at all. SEO is about balance, the more you take efforts to different sides of it, the more chances you will get on TOP, and in this case, it doesn't matter what search engine you select for promotion.
What about the pricing? How much money can you spend on your keyword tracking software?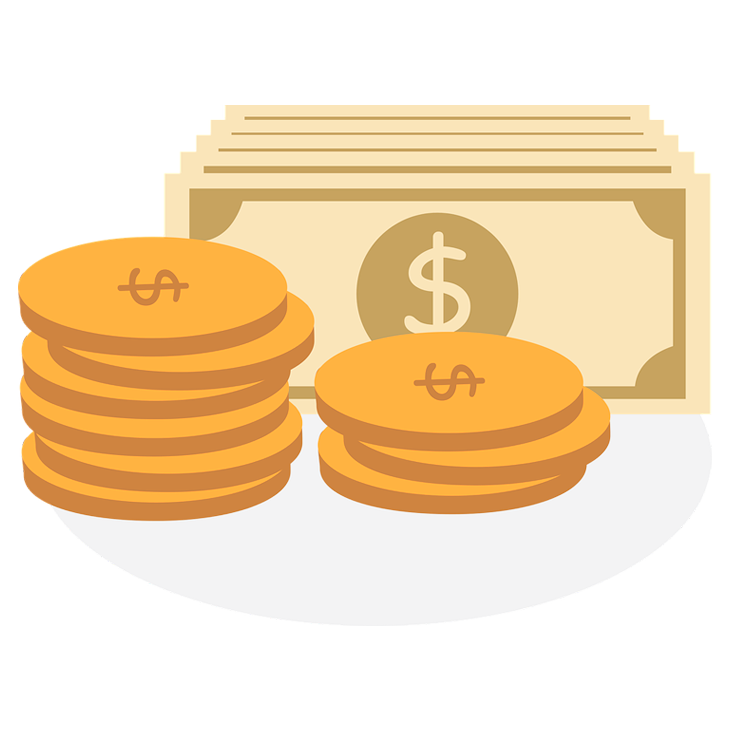 Anyone, a client of an SEO agency or a website owner who conducts SEO by himself, wants to save money on optimization. And it is not about greed; it is more about seeing that the money you spent is worth it. If you think that it is impossible to spend less money and get great results from a search engine, sufficiently analyze them and see the ways to make them better, then you should sit down and look at how we will break another optimization stereotype.
SEO has never been simple or easy. One of the reasons was, is and always will be Google. This authoritative search engine analyzes websites using more than 200 ranking criteria. Furthermore, it updates the algorithm regularly.
The amount of money spent on SEO and keyword tracking software particularly depends on how high you want a website to be ranked, how long you want to be on the TOP, how competitive your field is and so on.
Rather than using a few tools separately, it is better to choose a complete solution that includes all tools for analysis and improvement of current strategy points. Also, such decision saves a lot of time. You won't have to check different software, jump from one to another to check or compare the data. All-In-One Toolkit is a perfect choice. The RankActive platform includes one of the strongest rank trackers on the market. And it has all the features needed for the keyword tracking purpose. With its help, you can check search volume, ETV, KEI, CPC, competition level. Also, the dynamics of the ranking changes can be quickly estimated on the handy chart which saves a lot of time. No lost or won keywords will hide, no ranked page will slip under the radar. Even comparing of a website rankings in different search engines is available on this product.
As for the cost, here is the moment of truth. All the mentioned Rank Tracker features and additionally tools for an audit of a website, link-building, detection of brand mentions, checking of backlinks and more are available for only $29.95.
How can you use Google position checker in your SEO strategy?
Any rank tracker tool should not only check rankings but also provide a user with additional information that he can use for the improvements. This is what Rank Tracker designed by RankActive does.
What data can you get from Rank Tracker and how it will help you?
The real-time check of website rankings for hundreds or even thousands of specific keywords in different search engines, including the search for specific countries and cities. This data is the first thing that any SEO specialist checks when starts the analysis to see how good the website ranks.
Local results. Specify the location for which you want to get ranking results and analyze accurate data. It will help you to understand how successful the website is at the selected location.
Won and lost keywords. It is another essential feature which will contribute to saving time on the detecting of those keywords that won some rankings for your website or have lost the battle.
Insights on search volume for the keywords that are used for targeting. Knowing it, you will clearly see which of them worth your efforts or should be excluded from the list at all.
Estimation of traffic based on the added keywords. Analyze how many visitors you can get using different search queries and improve the performance of those that have the most potential.
Easy-to-understand rankings charts. Provide access to the platform and let your customers see the dynamics of changes or results of your work at a glance. You will exclude the need to create reports and forget about wasting your time on providing proofs of the successful work.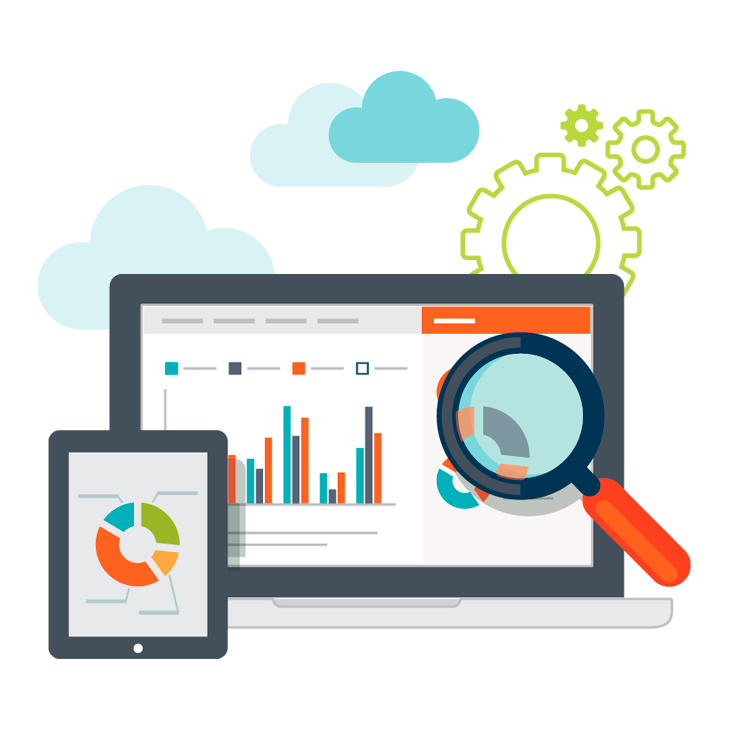 Relevant pages information. Find out what of the website pages are ranked in the TOP 100 of the selected search engine. The benefit of the feature is obvious you don't spend time on manual search of the relevant pages for the keywords you use for targeting.
Search engine optimization is a marathon, not a sprint. Even an ideally optimized site loses its positions over time if its owner does not care about progress. Rank Tracker allows you to evaluate the success of your efforts taken to promote a website on the Internet, and therefore, to act differently if the old actions are no longer efficient.
How does RankActive rank tracking software compared with other tools on the market?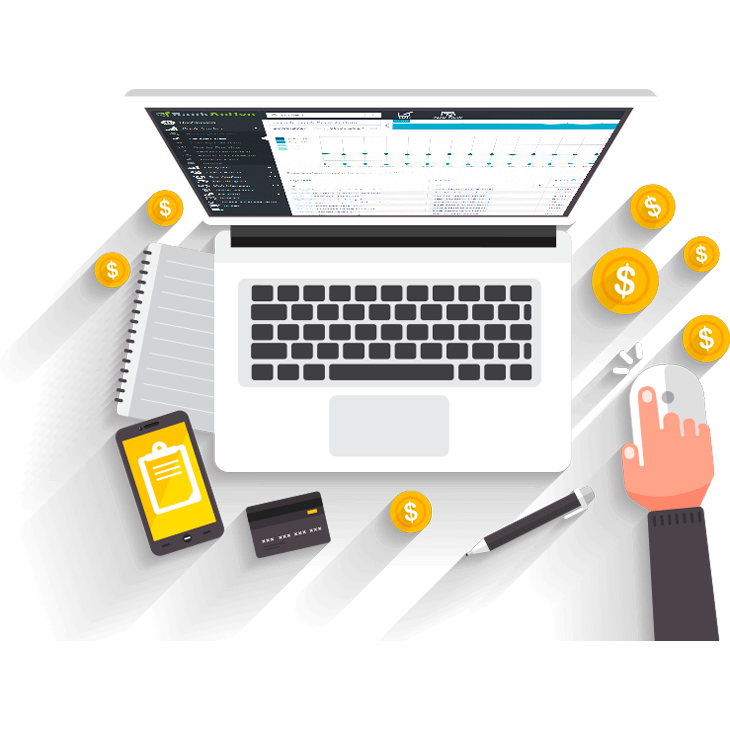 Rank Tracker is a tool that simplifies many processes related to the SEO promotion and keyword data checking. If you compare Rank Tracker by RankActive to other similar tools, you will see that it has more suitable data displaying and accurate information delivered from the most authoritative and trusted sources than the ones provided by our rivals. Here are a few of the benefits that make Rank Tracker competitive.
Sufficiently helpful and informative overview panel makes it possible to estimate the website rankings changes at a glance excluding the need to go through different points separately. Everything is put together and visually depicted.
Simple monitoring of the added keywords dynamics, their rankings in the TOPs of a particular search engine. It is very convenient to sort keywords by the growth or dynamics of changes, group them under a tag to quickly see what keyword groups perform better, which of them are worth the taken effort.
Rank Tracker has different sections that help to estimate certain types of ranking data. There you can see what keywords won or lost positions in the particular search engine, how many ranked pages the website has, how the keywords are distributed among ten search engine result pages, what rankings the site has in the search engines that were chosen for tracking of the results. It allows you to estimate the exact data you are interested in without searching for it all over the tool.
Additional information is available for each of the added keywords. You will find search volume, the competition level of any query, Keyword Efficiency Index (KEI) that is an indicator used by professional optimizers when they choose keywords. For its calculation, the system uses such sufficient values as search volume and the number of total results for the keyword.
Rank Tracker is a cloud tool which means it's stable, comfortable and can be used anywhere and anytime without installation and continuous updates.
Among all advantages Rank Tracker has over its competitors, there is one more - the constant updates. Our developers work hard to guarantee the smooth and efficient performance of the tool and add new features or parameters to meet user's requirements.